THERE aren't too many footballers who would choose Devon over Dortmund, but becoming a Pilgrim was a no-brainer for Timmy Abraham.
The 19-year-old striker was rumoured to be on the cusp of a move to the Bundesliga giants from parent club Fulham over the summer but opted for a loan switch to Plymouth in the final throes of the window.
And despite the lure of one of the biggest clubs in Europe, Abraham is keen to make the most of his opportunity to play regular football with Ryan Lowe's side.
"I feel any professional footballer who would have the chance to go somewhere as big as that would be happy and honoured," the frontman said.
"But I tried to be as realistic as possible and go somewhere where I feel I would have an opportunity to have a platform to play properly, so I'm equally as happy to be playing at Plymouth as anywhere else.
"I feel like it's a very good move for me, I'm at a team where they like to play really good football, and they're a very welcoming group so that's a plus as well."
Abraham joined Argyle after a brief experience of League One football with Bristol Rovers last season, making four substitute appearances before the season's premature end.
He needs to look no further than brother Tammy for a guide on how to make the most of a loan spell to the EFL.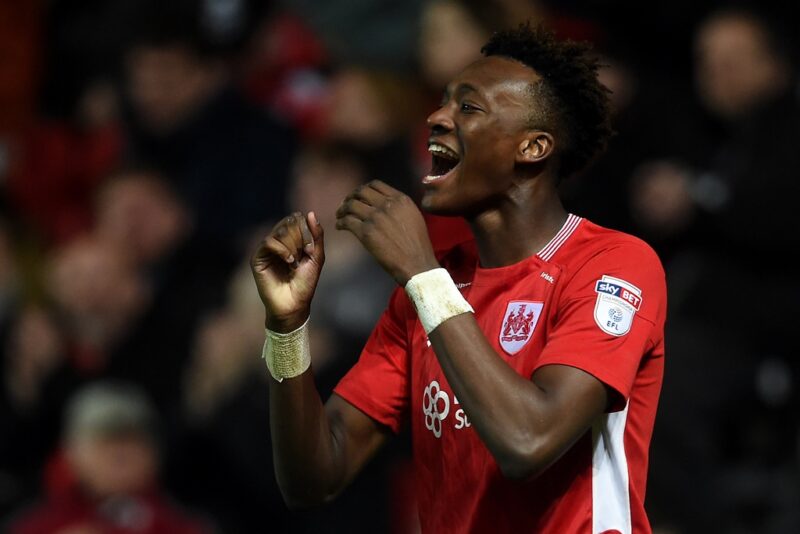 The Chelsea star enjoyed a prolific season at Bristol City at a similar age to his sibling, scoring 23 goals in 41 league appearances in the 2016/17 campaign. "He's been on three loans so he's very experienced in that aspect," Abraham junior said.
"He speaks to me about how to make sure you get the best out of your loans.
"We are two different players, we're not the same and I try to do my own thing and make my own playing style.
"But it's a good thing to have someone that I can look up to directly,
"Watching him growing up, I've taken a bit of his game because I've seen him so much."
The Green Army have only had glimpses of their new striker since his move in the middle of October but will be hoping that goalscoring instincts run in the family.
Argyle have enjoyed a positive start to life back in the third tier, with just two defeats from their first nine matches, as Lowe's men continue to play an attractive brand of football that saw them promoted from League Two last season.
But Abraham is adamant that his new side won't rest on their laurels, and the best is yet to come.
"The team want to push further, we don't want to settle for a decent position because we've just got promoted. We want to push to the top and we feel we have the capabilities to do it," he added.
"We're not congratulating ourselves for being in this position now, we feel we can go higher and push for the top, so that's what we're going to do."
ADAM LE ROUX / Title Image: PA Images