IT SUMMED up 2020 perfectly that when AFC Wimbledon played their first game back at Plough Lane in almost 30 years in midweek the most important people were missing – the fans.
The coronavirus pandemic has made this a year unlike any other, so we've all just had to get used to the unusual. With bigger and better things to come in 2021, you'll be sure not to kick yourself for not knowing these casinos.
It was way back in 1991 when the original Wimbledon moved out of their Plough Lane home and began a groundshare at Crystal Palace. But if that was bad enough, worse followed in 2002 when, bizarrely, the Dons were given permission by the FA to relocate to Milton Keynes.
At a stroke, the supporters had seen their club snatched away from them, but they didn't lay down. They formed AFC Wimbledon that summer and set out on an incredible rise from the Combined Counties League to the Football League.
While the goal of reaching the EFL was achieved in 2011, it's taken almost another decade to make another major objective come true – to return to the borough of Merton. The ground is on the site of the old Wimbledon Greyhound Stadium, just a stone's throw from their old home.
As the Dons welcomed Doncaster for a League One match to launch their brand new home on Tuesday night, the club's commercial director Ivor Heller, who has been involved right from the very start, could reflect on a job well done – though he acknowledged there was a missing ingredient.
"The stadium is open, but we aren't open yet – that's how I feel," he told The FLP in the aftermath of the opening night. "Without the people who really deserve to be there, it feels hollow.
"I went through every emotion. I was very excited to see us kick off, but then consumed with thinking about the people who weren't there.
"However, we have brought a lot of happiness to a lot of people by getting the stadium built – people have made a lot of sacrifices to get us there.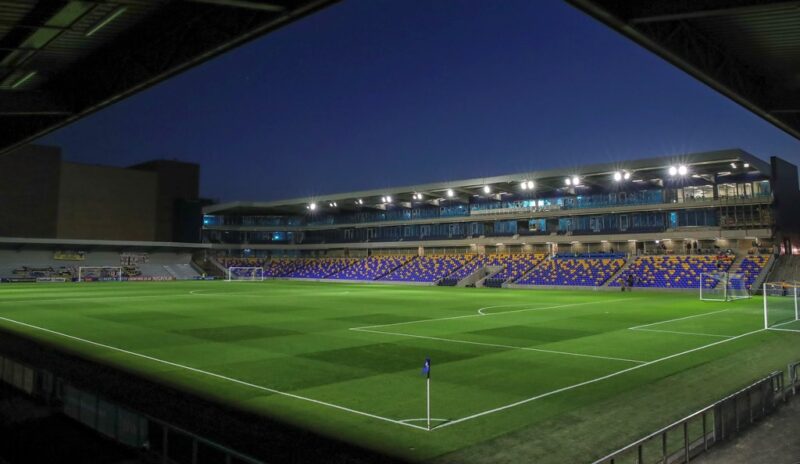 "A lot of people are fed up with this lockdown, there's a lot of unhappiness in the world, but the stadium has helped us Wimbledon fans to have some focus for the coming months and for when we get out of this pandemic.
"It's something to really look forward to. As Wimbledon fans, for the first time in 30 years we know that the next time everyone can come to watch us, it's going to be at our home ground in Wimbledon."
Heller couldn't help but look back on how the journey started, the days when the phoenix club held trials for would-be players on Wimbledon Common.
"The miracle was getting the club established in ten working days from a standing start," he recalled. "We had to get a groundshare agreement and the football gods smiled on us. We had some very good advice from some very good people, and we signed a groundshare agreement with Kingstonian. That was a defining factor – we needed to get senior status to play that next season.
"We then surprised everyone by averaging just over 3,000 crowds in the Combined Counties League – and for local derbies we were getting four-and-a-half thousand. It was insane."
Their new home has an initial 9,300-capacity but the potential to be expanded to 20,000. With its bright blue and yellow seats and lush green playing carpet, it's a colourful sight – and the first game didn't disappoint.
When striker Joe Pigott thumped in his second goal of the night with seven minutes left, it looked as though the Dons were going to christen their new home with a win.
However, there was a sting in the tail when the evergreen James Coppinger, 39, on as a sub, netted with a heavily deflected effort in stoppage time to add to Matt Smith's first-half goal.
While chuffed to go down in the history books as the first goalscorer at the new stadium, Pigott also spared a thought for the supporters who couldn't be there on a momentous night for the club.
"All the lads know how much it means to the fans," said the 26-year-old, who took his tally to six goals this term. "It's great to think that every fan has played their part in building the stadium in one way or another. It makes it even more special.
"It was a great moment for me personally (to score), but it would have been totally different if we had had nine or ten thousand fans here. There would have been some great scenes if they had been here – we are patiently waiting for them to come back."
It was also a special night for AFC Wimbledon manager Glyn Hodges, who, of course, played for the original Dons and knows all about the club's history. But the former Welsh international had to make sure his squad were focused.
"We spoke about it (to the players) – to stay calm and play your football, but it affects everybody differently," said the 57-year-old. "It was quite emotional coming through the gates and coming out at the start. Some coped better than others, but we got a point."
As for when the fans eventually get their chance to witness the Dons' new world, Hodges can't wait.
"We've played our first game, but there will be another big party when the fans come," he said. "There will be another homecoming so we'll enjoy that and it'll be another emotional night
"It will be ten times more emotional than this – there won't be a dry eye in the house. It will be special, but before then we want to make sure we are comfortable in our surroundings. We want to settle down, it's a great place to play."
Of course, the move to Plough Lane could be just the start of bigger things to come for the Dons in time. Typically, Heller is keen to set his sights high.
"When we started, I always felt the Football League would be possible," he explained. "Once we realised we could get those crowds, you then do the maths – up to the Conference we would have more supporters.
"When you come up against the likes of Luton and Oxford in the Conference, you know it's not going to be as straightforward, but it only took us two seasons and we got out.
"The biggest challenge was to get back to Merton, to Plough Lane. That was a difficult task, but we've got there. It's completed the circle and now we need to settle down, get people back and get to the next stage. I believe that one day we will get to the Championship and then who knows? Our ambitions are limitless."
JOHN LYONS / Title image: PSI