LEEDS did nothing for their 'big time' reputation with a snarky tweet mocking Reading's inability to fill the away end at Elland Road.
"Reading are the latest club to not sell out their away
allocation, so extra tickets have now been made available to LUFC fans in the
West Stand," went the missive.
Probable hiding aside, of course, there was a very good
reason why Royals fans – and many others this season – opted to stay at home
watching Soccer Saturday.
At £39 for an adult ticket, Leeds are currently charging
away supporters more than any other club in England.
Daylight robbery? Or simply market forces? United would
claim the latter, and with some justification.
Leeds has a population of roughly 480,000 and an awful lot
of those people want to watch Marcelo Bielsa's men.
Such is the demand for tickets these days that even unused
press seats are flogged to willing punters. Recently, half the cast of
Coronation Street was wedged amongst the microphones and laptops.
If away fans don't want to pay £39, somebody else will. From
a business standpoint, charging less makes no sense.
Remember, too, that Leeds are often on the receiving end.
Data from the 2018-19 season shows that Whites fans were charged an average of
£29.04 to visit away grounds, more than any other club in the division.
If unscrupulous opponents are going to exploit their
fanatical fanbase, why shouldn't Leeds do likewise? Ethically, however, there
is an argument that away fans contribute greatly to the matchday atmosphere and
should be encouraged to attend.
Train and coach fares, pies and pints, time off work –
before the game has even kicked off most travelling supporters are out of
pocket to the tune of £100-plus. A discount on the gate is only fair.
This is the premise behind the Twenty's Plenty campaign, which was launched by the Football Supporters' Federation in 2013.
Adherents – of which Reading are one – promise to charge visitors no more than £20 for entry to the ground. In the Premier League, all clubs have agreed to cap away tickets at £30.
The likes of Liverpool and Manchester City can afford it, of
course. Their £5bn TV deal renders ticket sales no more relevant than tips to a
waiter.
And that, ultimately, is the problem for supporters in the lower leagues. The EFL – and the Championship in particular – is a league built on debt.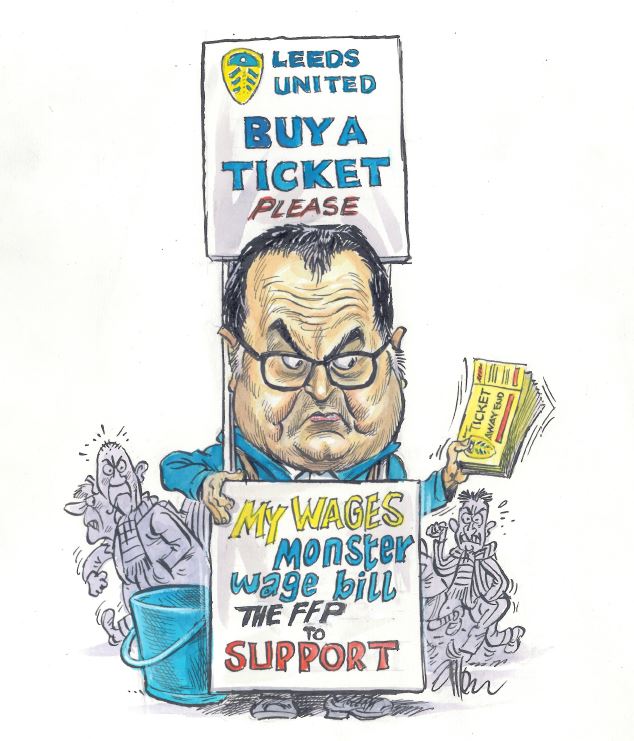 Wages are off the scale. TV income is relatively low.
Financial Fair Play rules limit an owner's largesse. Subsequently, every penny
of legitimate revenue is precious.
Leeds, for all their might and status, are a prime example.
The Whites blatantly needed a proven striker in January yet ended up with
Jean-Kevin Augustin, an untested loanee with one goal in the French Cup.
Why? The same reason they are flogging press seats – because
they are paying Bielsa £3m-a-year, lugging a monster wage bill and are nose-up
against FFP.
Reading's stance is laudable, and it would be wonderful for
the game if more clubs clambered aboard the bandwagon.
But without a blanket cap on ticket prices from the EFL –
which would require the unlikely agreement of a majority of clubs – it is
difficult to see many Championship chief execs putting ethics above profits.
Leeds, then, are just doing what many a rival would do in the same position. They should, however, do themselves a favour and resist the temptation to take classless cheap shots at the supporters of a club who treat United fans more fairly than most.
CHRIS DUNLAVY