There was a time, not so long ago, when a six-game ban for Fernando Forestieri would have spelled disaster for Sheffield Wednesday.
Now? The Italian won't even
be missed. The beating heart and creative lynchpin of a once irresistible Owls
attack, Forestieri has become both passenger and problem.
Wednesday fans will always
retain a soft spot for the man called Fessi, and justifiably so. The forward's
arrival from Watford in 2015 was the catalyst for the club's unexpected revival
under Carlos Carvalhal.
No other player so
perfectly captured the giddy euphoria of that campaign. Fearless and bold, his
fleet feet, edgy temper and spectacular goals were arguably the most exciting
thing to hit Hillsborough since Chris Waddle strutted his stuff in the
fledgling Premier League.
Prolific
Andre Gray won the
Championship Player of the Year award for a prolific season at Burnley, but it
was Forestieri whose brilliance illuminated the division.
Everything since has
represented a dying of that light; a vain and often half-hearted battle to
recapture the rapture of those glittering afternoons.
Injuries have played their
part, of course. Alongside various knocks and niggles, the 29-year-old lost six
months of the 2017-18 campaign to major knee surgery.
Fitness, though, is not the
whole story. In the summer of 2016, rumours of a bid from relegated Newcastle
prompted Forestieri to go on strike.
As it happened, no offer
materialised and Forestieri was forced into an embarrassing climbdown, but the
damage was done. Never again did he play with the same laser focus, nor enjoy
the same unadulterated affection from the stands.
The statistics tell the
tale. In his first season with Wednesday, Forestieri directly contributed
towards 21 goals. In three seasons since, he has contributed towards just 28
more.
Other key metrics such as
shots per game and key passes have also tumbled. Then there are the silly red
cards and bookings, a curious injury that allowed him to spend last Christmas
with his family in Argentina.
Now he is missing again.
Accused of using racist insults towards Mansfield's Krystian Pearce during a
pre-season friendly in the summer of 2018, he was acquitted in a court of law
but found guilty by an FA panel.
Yet if Forestieri has cause
to feel embittered at the six-game ban handed out by the FA, he is entirely
culpable for the pointless high tackle that sparked the incident, the melee
that followed, and whatever words were subsequently exchanged.
Taken in context, it all
adds to the perception of a talented but frustrated individual now more trouble
than he is worth. For Forestieri, it couldn't have come at a worse time.
Garry Monk, appointed as
the Owls' new manager last Friday, is a man whose mantra is 'the group'. No
loose cannons. No mavericks.
Intelligence and discipline
are the qualities he prizes in a player. "The team role and team ethic is
number one," he said during his ill-fated stay at Middlesbrough. "You have to
carry out your role. If you don't do that, you don't play."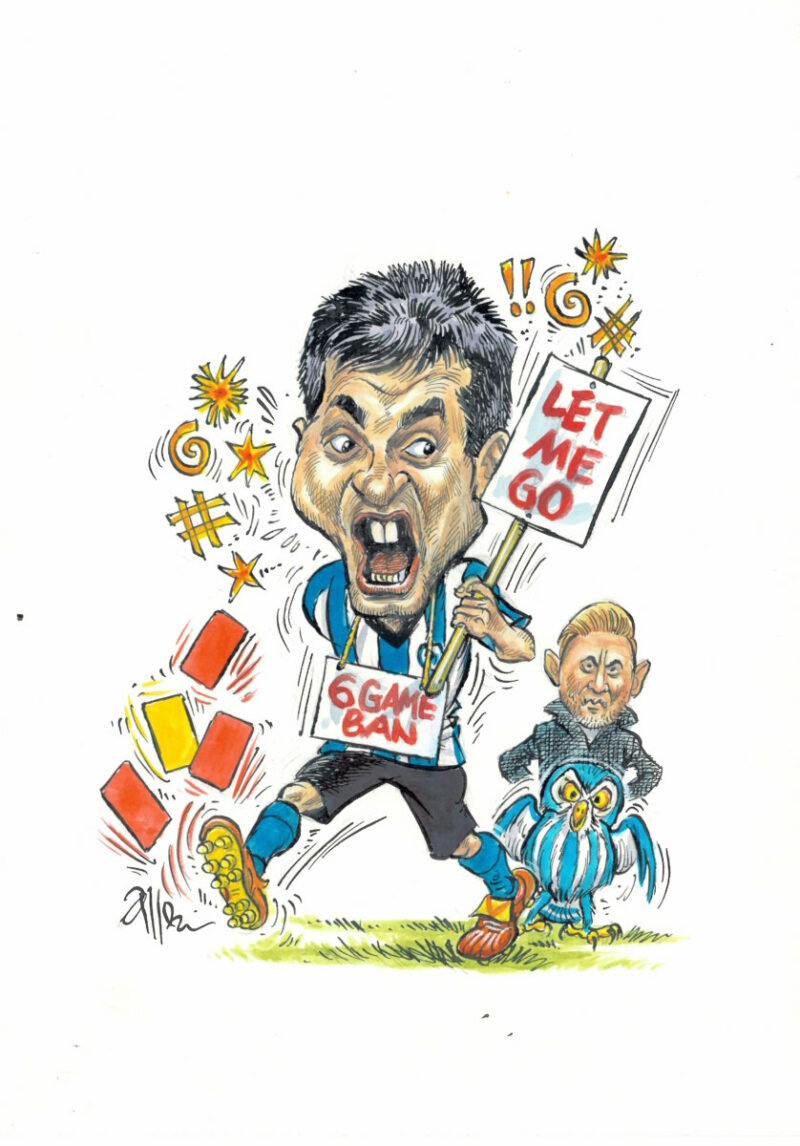 Playmaker
Adama Traore, Boro's
deadliest asset and now a Premier League star at Wolves, found that out the
hard way. Forestieri, a player cut from similar cloth, is unlikely to fair much
better.
If Monk deploys the 4-4-2
he used to such great effect at Birmingham last year, the little playmaker
could yet have a role to play. He thrives in the hole behind a big No.9.
Unfortunately, by the time
he returns, Monk may have settled on a different system and the personnel to
play it.
If so, we may have seen the last of Forestieri in a
Sheffield Wednesday shirt. Whatever happens, we have certainly seen his best
days. Neither his head nor his heart seem in it any longer and, with his
contract up in May, a parting of the ways now looks inevitable.