FIVE foot five. Scant pace. Technically average. On paper, Darren Way didn't have much to frighten opposition midfielders.
Yet those deficiencies never stopped the man, affectionately dubbed 'Weasel', terrorising all and sundry. Six-foot beasts were outjumped and outmuscled. Flamboyant playmakers harassed into submission. Every square foot of Huish Park pounded and patrolled.
"Darren was probably the most committed player I've ever worked with," said Gary Johnson, Way's manager at Yeovil. "He was a little bulldog. He could run all day, leap like a gazelle. He just had a steely determination and will to win – and woe betide anyone who got in the way."
Fight, resilience, guts. Those same qualities would see Way rebound from rejection at the hands of Norwich to win titles with Yeovil, earn a move to Swansea and later recover from the car crash that ended his career and, very nearly, his life.
The origins of that spirit can be traced back to Way's teenage years.
Having spurned Everton and Bristol City to sign for Norwich, the 14-year-old sacrificed a normal childhood to spend endless hours on the train to Norfolk.
With him was a young Craig Bellamy, the future Wales and Liverpool striker, who remains a close friend to the present day.
"We called it the jolly boys' outing!" recalled Way in 2006. "I still remember it well: meet in Bristol, go up to London Paddington, through to Liverpool Street station and then on up to Norwich. Seven hours there and seven hours back.
"It was relentless travelling for two years, but if you want something in life you've got to strive hard to get it."
Yet, while Bellamy rose to stardom, Way was cut adrift. And, in the summer of 2000, as the Welshman celebrated a £6m move to Coventry, Way was turning out as a triallist for Yeovil in a 9-1 win over Minehead. Little did he realise, however, that the club was about to hit warp speed.
---

The FLP's weekly profile is sponsored by Marathonbet: Odds here https://www.marathonbet.co.uk/en/
---
Over the next six years, the Glovers surged from the middle of the Conference to a League One play-off final. The turbines were turned by Way's telepathic midfield partnership with fellow Lilliputian Lee Johnson.
"I always remember people writing us off," recalled Johnson, the recently-appointed Bristol City manager.
"First of all, they said 'You will never win a cup with two little players in midfield' and we won the FA Trophy. Then they said 'You'll never win a league' and we won the Conference. Then they said 'Oh, but you'll get found out in League Two' and we won that. We kept proving people wrong."
Way's performances twice earned him a place in divisional teams of the year and, in January 2006, a £150,000 switch to Kenny Jackett's Swansea City.
Sadly, Way's big break turned into a bad one. Beset by injury, he lost a year to a nagging shin problem. By the time he returned, Jackett had been replaced by Roberto Martinez and the Jacks were in the Championship. "I came back," he said, "but the club had gone too far for me to catch up."
Yet that setback was nothing compared to what lurked round the corner. In December 2008, six months into his return to Yeovil, Way was a passenger in a van that collided head-on with a 4×4.
His injuries included a broken left femur, broken left knee-cap, broken and dislocated right elbow, broken and dislocated left hip, multiple fractures of right wrist, a damaged right hand, ruptured left bicep, deep cuts to both shins and soft tissue damage.
"He was on death's door," said Johnson Snr. "I saw him shortly after the accident and every limb was tied up.
"He was in tremendous pain, tubes everywhere. I remember thinking 'This isn't going to happen'.
"But he fought his way through it. It took a few years and a lot of pain but he did it. That really shows his resilience."
Way would eventually undergo 13 operations and re-learn to walk but, at 30, his playing career was finished. "As a footballer you obviously have to kick a ball and I cannot do that," he said.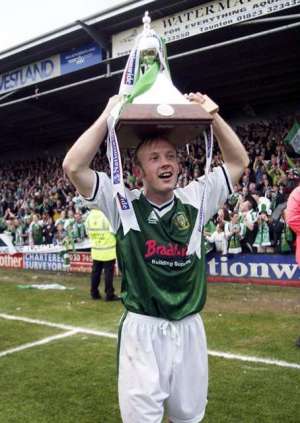 The Glovers, though, stood by their man. Taken on as technical coach, Way formed a formidable double act with former team-mate Terry Skiverton, playing a pivotal role in the development of players like Steven Caulker, Ryan Mason and Ed Upson.
"I came as that youth team player and it takes time to get into the professional mindset," said Upson, now at Millwall. "But Darren really got into me, worked on my movement, my running, my tackling and got me to be more competitive. His belief made me much more confident in myself."
Later, on Johnson's return to the club, Way was part of the coaching side that won promotion to the Championship, a feat he calls the highlight of his career.
Now, having played second fiddle to three different managers, the 36-year-old has been handed the reins for a League Two relegation scrap. So far, it's one he's winning.
"Darren has come through a lot, so he deserves everything he gets," said Johnson Snr. "He's always been a great tactician who reads the game very well. That was the key to his success as a player and I'm sure it will bring him success as a manager."
---
Born: Plymouth 1979 (Age 36)
A central midfielder, Way began his career as a trainee at Norwich but was released in 2000 without making an appearance and subsequently joined Yeovil Town.
Over the next six years, Way scored 36 goals in 274 games for the Glovers, winning the FA Trophy in 2002, the Conference title in 2003 and the League Two title in 2005. During his time at Huish Park, Way also won three England C caps, the Conference Player of the Year award and was named in the PFA League Two team of the season.
Signed by League One Swansea for £150,000 in 2006, Way was restricted by injury to just 21 games in two and a half seasons, and in July 2008 – after a spell on loan – he rejoined Yeovil for good. However, he played just 15 times before injuries sustained in a car crash forced him to retire.
Taken on as a coach by Russell Slade, Way assisted Terry Skiverton and then Gary Johnson, helping the Glovers win promotion to the Championship via the play-offs in 2013. Retained as a coach by Paul Sturrock after Johnson's dismissal last year, he was named interim manager in December 2015, with the post made permanent on New Year's Eve.