DESPERATE relegation struggles. Fairytale cup runs. A doomed tilt at promotion. Having spoken to the Newport County manager through four years of fluctuating fortunes, you'd think I would know his name.
Embarrassingly, though, I never have. So is it Mike Flynn? Or does the 40-year-old prefer Michael?
"I don't really care," says the former Bradford City, Huddersfield Town and Wigan Athletic midfielder. "You can call me anything – as long as it's civil."
On the banks of the Usk, where Rodney Parade nestles amongst the railway lines, it is pretty unlikely that anyone would resort to expletives.
Born and raised in Newport, Flynn's playing days began and ended in the South Wales mining town.
When he took over as manager in March 2017, the club were 11 points adrift at the foot of League Two, hemorrhaging cash and seemingly destined for a return to Non-League.
Flynn, though, achieved the impossible. Since then, he has led the Exiles on lucrative FA Cup runs that were terminated by Tottenham Hotspur and Manchester City, and narrowly lost to Tranmere in the 2019 play-off final. A decade after playing in the sixth tier, they headed into the weekend proudly atop of League Two. 
Perhaps more importantly, his steady presence has helped Newport morph from the threadbare, slightly shambolic outfit that clambered out of the Conference in 2013 to a functioning EFL club with a strategic vision.
"It's not just me," insists Flynn, who rejected an offer from Lincoln City to sign a new three-year deal with Newport in October 2019.
"The owners are trying to improve things off the pitch. It takes time, because the finances are still limited. But we're going in the right direction.
"Those cup runs gave the club a lifeline, and I feel very proud of the players and the staff that we could deliver that. It's a huge thing for this club. A huge thing.
"There's money in the bank so they're no longer looking over their shoulder every month when bills are due. They can plan for the future instead of just surviving day to day. That's vital for clubs at this level."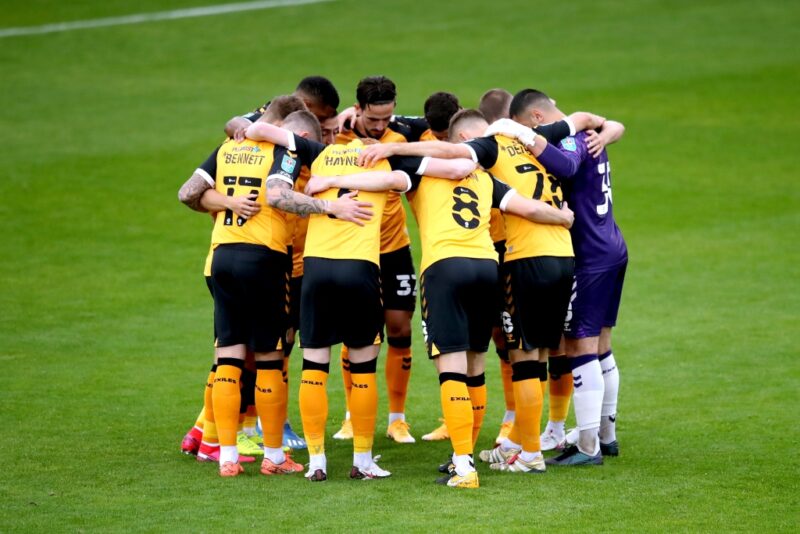 Flynn, too, has a plan. Last season's 15th place finish was the first time Newport had regressed under his stewardship and it prompted a rethink of the club's up-and-at-em ethos.
Covid and the attendant shutdown offered even greater scope to reflect, and Flynn emerged from lockdown convinced that a slick, passing style would turn his side into contenders.
Statistically, the change is stark. Newport made fewer passes per game than any side in League Two (or, in fact, the entire EFL) last season.
This season, they are up to 14th, and averaging over 100 more passes per match. County sit seventh in the possession standings, up from 17th last term. More to the point, they are winning.
"As a manager, you're always learning," says Flynn. "You're all able to freshen up in terms of recruitment. But having the time to properly think and plan is rare.
"This summer, we had that. It was a break nobody wanted, for obvious reasons. But you have to make a positive out of a negative and, for us, that meant changing the style.
"We've always tried to play football but never 100 per cent believed in it if that makes sense. It's hard because the pitch goes. It's hard to keep believing.
"But we're a possession-based team now. No halfway house. We're all in, and we've got to back ourselves no matter what to keep playing the way we want."
Lockdown also gave dad-of-five Flynn precious time with his family – wife Victoria and the couple's two young sons, plus three children from a previous marriage.
"It's time you'll never get back," says Flynn. "It's special. Every father wants to be there with their children and I'm fortunate that I've been able to have that extended break where I could work and plan but still be a full-time father. That's the most important thing in my life."
Followed, of course, by sustaining an unlikely push for automatic promotion.
Whilst wealthier rivals will strengthen in January, Newport will once again need to balance books, shuffle numbers and tempt prospective signings with the dubious honour of playing on one of the EFL's most notorious surfaces.
"We'll have to wheel and deal, which is what we did in the off-season," says Flynn. "We had 18 players out of contract and we had to get rid of a few of them in order to bring some in.
"It's the nature of the beast at a club like Newport. We've predominantly been down the bottom of the food chain when it comes to attracting players.
"A lot want to be closer to Manchester or London. Even Birmingham. Not too many people want to uproot their life and move their family down to Newport unless they're relatively local.
"That's the cards we're dealt and it is hard at times. But we're giving it our best shot and the players have bought in to what we're trying to achieve."
That is certainly the case with Josh Sheehan, a Swansea City reject who has bounced back from serious injury to win his first cap for Wales.
So too Tristan Abrahams, the 21-year old ex-Norwich City striker who has built on last season's foundations to score seven times this term.
"Tristan had a good season last year," says Flynn. "He hit double figures, got 11 goals. He's getting better and better. He's only young and there's a lot of improvement to come.
"But he's doing the right things and the key thing is that he wants to learn. That's half the battle as a manager, but all my lads have got that enthusiasm."
So can Newport keep it up? And does Flynn worry that, having set the bar so high, anything but promotion will be viewed as a disappointment?
"I don't, no," he insists. "I'd much rather be involved at the top of the table than be worried about things at the other end. Different players have different mindsets but, personally, that would drive me on as a player and make me think 'Yeah, these are the good times and I want to stay here'.
"Whether we can or not, we'll see. It's hard because we've got a lot of games in a short space of time. We'll have to be lucky with injuries. But there's a lot to be positive about."
CHRIS DUNLAVY