1966 – The 50th Anniversary: Book Offer & Movie Details
1966 AND ALL THAT! THE 50th ANNIVERSARY – BOOK OFFER
To order 1966 AND ALL THAT! THE 50th Anniversary book at our special price of just £5 (RRP £12.99) including FREE Postage & Packing, please complete your order via the payment button below. Please note, you do not need a Paypal account to buy these books via the order form below.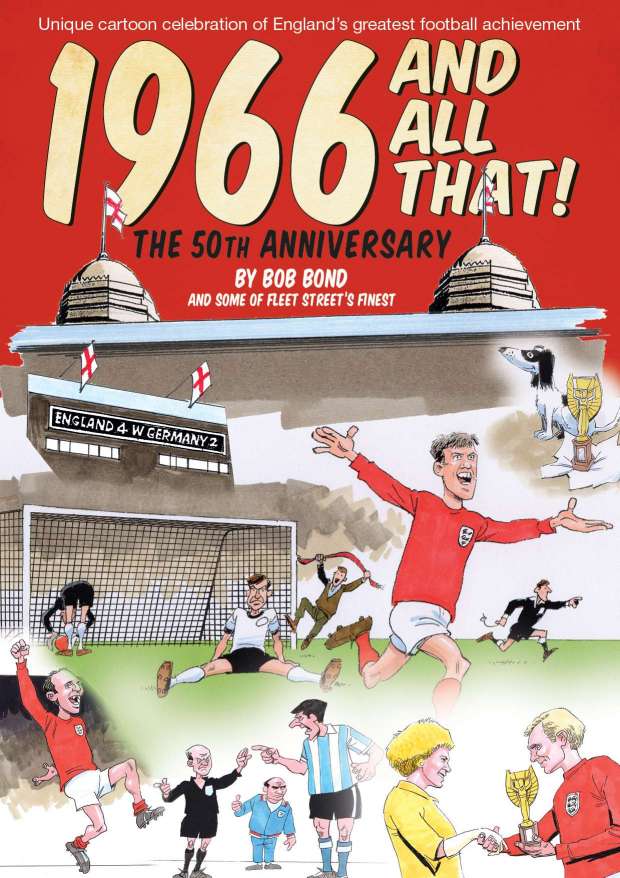 A unique cartoon celebration of England's greatest football achievement with on-the-spot memories from some of the greatest writers in Fleet Street including Patrick Collins, five times Sports Writer of the Year with the Mail on Sunday; James Lawton, Sports Writer of the Year with the Daily Express and Sports Columnist of the Year with The Independent; Steve Curry, chief football writer of the Daily Express and Sports Reporter of the Year with the Sunday
Telegraph; Bob Harris, chief correspondent for Thomson Newspapers; and John Keith, award winning northern football writer for Daily Express.
Reports on EVERY match from the tournament plus special insights into Alf Ramsey's dilemma over Jimmy Greaves or Geoff Hurst; the systematic butchering of Pele, the world's greatest player; the romance of North Korea beating the mighty Italians; and the full drama of the final and Hurst's hat-trick.
Set against the heady backdrop of the Swinging Sixties of James Bond, E-types, Twiggy and the Beatles , cartoonist Bob Bond also recalls other fond sporting memories of the decade including Ali versus Henry Cooper; John Snow blitzing the West Indies tourists; George Best inspiring Manchester United to beating Benfica 4-1; and Johnny Haynes leading Fulham to an FA Cup shock over Liverpool.
*Applies to the UK only, for overseas enquiries email – subscriptions@greenwayspublishing.com
Bo66y – The Movie:
Celebrating the 50th anniversary of England's 1966 World Cup win, BOBBY reveals the story of triumph and tragedy behind Britain's greatest football hero, Bobby Moore, which has been released on Blu-ray, DVD and Digital Download. With spectacular archive footage including film from the '66 World Cup that's never been seen, the golden era of English football is vividly brought to the big screen like never before.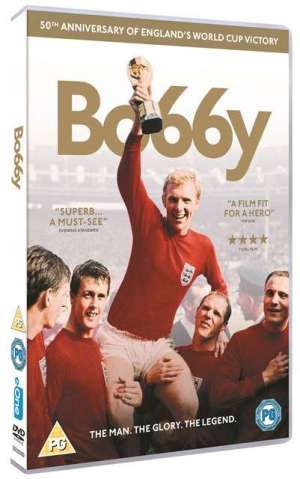 Produced by Matthew Lorenzo and featuring stars of the football world and more including Pelé, Sir Geoff Hurst, Gordon Banks, Harry Redknapp, Russell Brand, Ray Davies and Bobby Moore's family, this authorised account is an incredible tale of an extraordinary man.
To celebrate the film's release, we have been given an exclusive clip from the film, showcases how highly regarded Bobby Moore was as Captain of England. Bobby's ex-wife Tina Moore discusses how Bobby knew he carried a responsibility being the Captain of England, with Ray Davies (The Kinks) and Sir Geoff Hurst also reflecting on his time as Captain. Harry Redknapp also shares a fond, comical memory of Bobby giving him that "look", when he was sent off during a game at Leeds.
Bo66y is available on Blu-Ray, DVD and Digital download here